Ablekuma West NPP Swears in Campaign Team for Election 2020
The New Patriotic Party in the Ablekuma West Constituency has sworn in a 19 Member Campaign team, whose duty is to lead campaigning activities ahead of the December 7 Parliamentary and Presidential election.
Key among the team are Member of Parliament and Parliamentary candidate of the Constituency, Hon. Ursula Owusu-Ekuful, Municipal Chief Executive, Hon. George Cyril Blay, the Constituency Chairman, Mr. Charles Osei Kumi, and 16 others put together from various Electoral area and zones.
Speaking at the campaign launch, the Municipal Chief Executive of Ablekuma West assured the team of the availability of enough logistics to work towards victory 2020.
Other members of the campaign team assured party members and supporters of their preparedness to work hard to secure the needed victory and increase President Akufo-Addo's votes in the Constituency.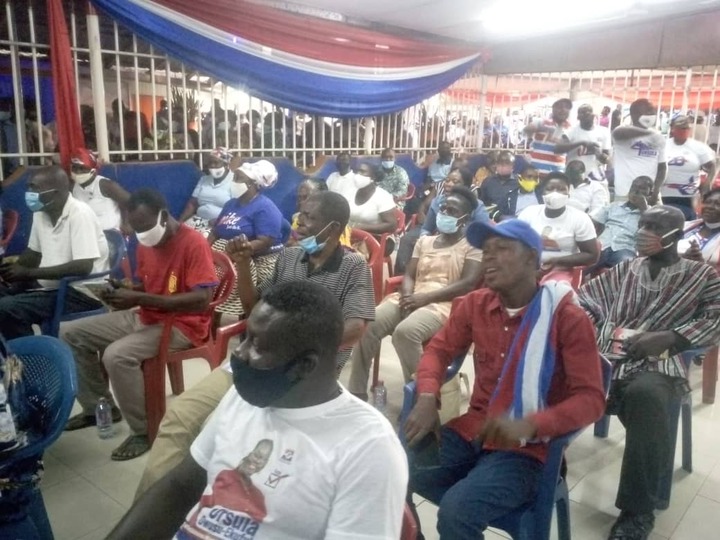 "We will work hard to make 2020 election a good one, and I promise u that we won't disappoint you for the opportunity you have given us".
Head of Operations at the Presidency, Hon. Lord Commey who was also present at the function expressed satisfaction at the zeal and readiness of the campaign team saying that members of the party may not have gained anything personal but it is important to note that, it is through their hard work that today, that country is enjoying Free SHS, Free Water, Free electricity and a host of other great initiatives being implemented by government.
Member of Parliament and Parliamentary Candidate for the area, Hon. Ursula Owusu-Ekuful assured team members of her readiness to provide all it take to make the work smooth.
"If you make up your minds to work with me for a progressive party, I'm also ready to work with you all. We did well in 2012 and 2016 and I'm expecting we do well again in 2020 too".
She also expressed her appreciation to all members of the party for their contribution and dedication to the party.
http://serconmp.com/afu.php?zoneid=2797134