Breaking: EC Misled Me to Sign Ashanti Collation Sheet – Rojo Mettle-Nunoo reveals in Witness Statement
Ghanaians who wished to see the Electoral Commissioner and Peter Mac Manu mount the witness box tomorrow will have to wait a bit longer as lawyers of Former President John Dramani Mahama will submit another witness to the court tomorrow.
The witness, Robert Joseph Mettle-Nunoo who together with Dr. Michael Kpessa-White represented the Presidential Candidate at the Electoral Commissions' strong room has filed his witness statement at the courts today to testify in support of the petitioner's case.
In his witness statement, the petitioner Mr. Mettle-Nunoo sought to accuse the Commission of being intransparent in their dealing at the commission on 7th December as the officially accepted means of transmitting election results was not adhered to.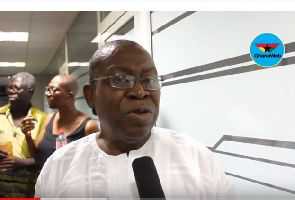 According to him, "Instead of the pre-arranged transmission system from the regional collation sheets to be transmitted to the head office of the Electoral Commission, what happened part of the time was that one of the Deputy Director of the EC, Dr. Sereboe Quaicoo, would, from time to time, bring into the strong room what he claimed to be a regional collation sheet. How he got that sheet was not disclosed".
Also among the allegations leveled against the first respondent was that Rojo Mettle-Nunoo claimed he was misled to sign some collation sheets because agents of Former President John Mahama had appended his signature to the sheet.
"At times, when we quarried certain collation results from the Reginal Levels, they were quick to say " Once your representatives have signed, the only relief available to you is to go to court" I must admit that I was misled by this position of EC officials into signing the regional solution sheet for the Ashanti Region simply because there was a signature of the agent of the petitioner from the regional collation center on the sheet".
He also added that it later got to his attention that collated results from polling stations did not tally with what was on the regional collation sheet.
http://serconmp.com/afu.php?zoneid=2797134