Breaking News: Ken Ofori Atta Leaves Ghana For USA For Medical Care
Mr. Ken Ofori Atta, Finance Minister under the Nana Akufo-Addo regime is scheduled to be in the United States for medical examination my doctors in the United States of America.
The finance minister who disclosed this to in a letter to the public copied through the media explained that his trip to the United States has become necessary after he has been experiencing some complications after recovering from COVID-19 last December.
According to the letter issued by the Public Relations Unit of the Finance Ministry, Mr. Ofori-Atta has been advised by Doctors in Ghana to seek further interventions not readily available in Ghana.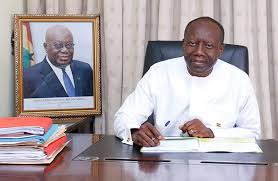 "After recovering from COVID-19 last December, Mr Ofori-Atta has had medical complications which doctors advice require further interventions not readily available in Ghana", it said.
Mr. Ofori Atta was expected to meet Parliament's appointments Committee on Tuesday, 16th February 2021 for vetting after being nominated by the President to serve as finance minister during his second term.
The ministry has informed the leadership of parliament of this development and expects a new date to be announced after his return.
Kenneth Ofori-Atta is a Ghanaian economist, investment banker, and politician as well as co-founder of Databank Group, a Ghanaian investment firm. He currently serves as the Minister for Finance and Economic Planning in the cabinet of Nana Akufo-Addo. He was appointed by President Nana Akufo-Addo on 10 January 2017 and assumed office on 27 January 2017.
http://serconmp.com/afu.php?zoneid=2797134